Reporter:
Manitowish Waters Chamber
Trail Conditions:
Fair
Snow Cover:
16-24
Date of Report
: January 30, 2018
Area Report:
Date: January 30, 2018 ~ Trail Conditions: Fair/Good ~ Posted by: Barry Hopkins – Snowmobile Club President…….
We rode Murray's Landing Road and across the Turtle Flambeau Flowage to trail 9, took that north to trail #14 north to Island lake, Then trail 15 to 8 to 77 up to Joany's Sidekicks in Iron Belt. From there we rode 77 east to trail 15 south to Annie's Pub in Gile.  (My first time at Annies, but definitely not my last)  From there we took 15 A to Trail 17 to the Yukon, then back south to The Wolfs Den and back to Manitowish Waters.  Murray's was thinly covered so we road the edges.  Everything North of the Flowage was very nice. The grade (Trail 17) was snow covered, a bit thin through Mercer.  With some snow in the forecast, I'm optimistic that this will be another good week to ride! Trails ranged from fair to very good up north.   
News and Reports:
Sno-Skeeter Snowmobile Breakfast Fundraiser
Sunday, January 14, 2018
8:00 A.M. to Noon
Location: Ye Olde Shillelagh Irish Pub – 14202 Tower Rd.
Sno-Skeeter Snowmobile Breakfast/Guns and Roses Drawing
Sunday, February 4, 2018
8:00 A.M. to Noon
Location: The Pea Patch – Downtown Hwy W.
Breakfast at The Pea Patch. Drawing for Guns and Roses Raffle at noon.
Sno-Skeeter Snowmobile Winter Rendezvous
Saturday, February 17, 2018
9:30am to 6:30pm
Location: Rest Lake Park – Hwy W
The area's biggest ice fishing contest with prizes awarded in 8 categories, sponsored by the Manitowish Waters Sno-Skeeters Snowmobile Club. Ice fishing contest runs from 10:30am until 5:30pm, with more chances to win raffle prizes if you pre-register at Townline Sports or Lakeland True Value. Tent opens at 9:30am for registration. Opening ceremony begins at 10am. Ice fishing awards at 6pm. This family event has activities for all: kid's games, free groomer rides, racing and photos with the "Famous Klements Racing Sausages" and live music.
Food and refreshments are served in a 40' x 40' heated tent and raffle items including: ice auger, ice shack, generator, snowmobile and many more items.
Stay for the event's finale – spectacular fireworks over frozen Rest Lake.
Dress accordingly, this event is held on Rest Lake just off of Rest Lake Park's boat landing on Hwy W, 1/4 mile north of Manitowish Waters. Parking is available in the Rest Lake Parking Lot.
Snowmobile Information:
Snowmobiling Information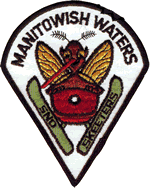 The Manitowish Waters Sno-Skeeters snowmobile club was founded in 1968 and is one of the oldest snowmobile clubs in existence today in Wisconsin. Located in the very northwest corner of Vilas county, Manitowish Waters borders the Lake Superior snow-belt country. With average snowfalls of 150 inches and over 25 miles of professionally groomed trails, the area is one of Vilas County's top winter vacation areas.
The Manitowish Waters trail system is a unique hub network directly linking into 5 other trail systems. With Minocqua/Woodruff to our south, St. Germain/Eagle River to our southeast, Lake Gogebic to our north, Presque Isle/Winchester to our northeast, Mercer and Hurley to our northwest and Lac du Flambeau/Price County to our west, our area residents and guests can choose from a variety of daily or overnight destinations for scenic riding with excellent pit stops along the way.
The Manitowish Waters Sno-Skeeters maintain an active grooming schedule for the area's trail system. Coordinated efforts with the surrounding communities provide continuous smoothly-groomed trails in this northwest sector. The Sno-Skeeters own and operate some of the newest grooming equipment on the market today. Support the club by attending their special events or contributing to the "trail pigs" at local establishments along the trails. Or show your support by becoming a member!
Enjoy, and please ride responsibly and safely!